"Sama Vidhan"
Constitution Day is also known as Samvidhan Divas, Sam meaning "equal" and Vidhan, "making, creation". A Samvidhan, a Constitution stands for a set of laws that facilitates equality and justice in a civilized society. Constitution is an integral part of any democracy, which ensures that people are supreme and shall have equal rights, while being a citizen of that country. The modern English dictionary defines a Constitution as, "a body of fundamental principles or established precedents according to which a state or other organization is acknowledged to be governed."
While India has its own constitution post independence, Constitution Day is more of a recent origin. The government of India declared 26th November as Constitution Day, on 19th November 2015. This day was earlier observed as National Law Day.
Why this day?
26th November 1949, was the day when the Constitution of India was adopted by the Constituent Assembly. The constitution came into effect on 26th January 1950, the day which is celebrated every year as Republic Day.
The year 2015 had a special significance as it was 125th anniversary of B R Ambedakar who chaired the drafting committee of the Constituent Assembly and played a key role in drafting the constitution.
However Constitution Day need not be seen as a day honouring Ambedkar alone. There were many other prominent people at the helm, who are joint architects of our constitution.
Bir Bikram Kishore Manikya
Even a decade before the Indian Constitution was prepared and adopted by the Constituent Assembly, the constitution was already being shaped by someone else and from a different quarter. It was in Tripura!
The last king of Tripura, Bir Bikram Kishore Manikya, notified a constitution having 68 articles, seven parts and three schedules in July, 1941. It came into being at least nine years before the Indian Constitution was adopted.
Maharaja Bir Bikram Kishore Manikya
King Bikram in late 1930s toured many parts of Europe and also met Hitler in Germany. On returning to India, he came to the opinion that monarchy would not continue for much longer in the coming modern age, not just in Tripura, but in whole India as well.
He got down to framing a constitution not just for his kingdom of Tripura but for the whole country. This was a clear 6-7 years even before India was given Independence and even before World War-2.
King Bikram set up a constitution drafting committee in 1939, headed by himself. The contribution of King Bikram's constitution preparing effort, paved the way for the constitution of India, which was prepared by the constituent assembly, a decade later.
The important features of Tripura's contribution to Indian constitution being,
Preamble
Gender neutrality
Emergency provision
Judicial institutions
Interpretation Provision
Independence of judiciary and executive
Ideas of representatives
It is quite baffling that even during the British rule, the Tripura King, in his written constitution, had made a core concept of democracy.
Architects of Indian constitution
Dr. Rajendra Prasad, who later went on to become the first President of India, was the president of the Constituent Assembly and played a leading role in the creation of our constitution. He appointed the drafting committee with B R Ambedkar as the chairman, along with six other members and a constitutional adviser.  These members were Pandit Govind Ballabh Pant,  Kulapathy M Munshi, Alladi Krishnaswamy Iyer, N Gopalaswami Ayengar, B L Mitter, Mohammed. Saadullah and D P Khaitan. The constitutional advisor was Sir Benegal Narsing Rau.
Baba Saheb Ambedkar with Constitution Drafting Committee Members
A draft was prepared by this committee on 4th November 1947, and submitted to the Constituent Assembly, and which was then debated for the next 2 years, with as many as 2000 amendments, before being adopted on 26th November 1949.
Dr. Ambedkar Submitting the First draft of the Indian constitution to Dr. Rajendra Prasad.
The original constitution was handwritten by Prem Behari Narain Raizada in Italic style with beautiful calligraphy. This final version was then signed by all the members of the Constituent Assembly in January 1950, and the constitution came into effect on the 26th of the month, and since then has been the guiding light of this nation.
Prem Behari Narain Raizada writing the constitution
Dr. Rajinder Prashad examining the original Manuscript of Constitution of India presented by Prem Behari Narain Raizada.
Dr. Rajendra Prasad signing the Constitution of India.
Granville Austin
Granville Austin, an American author has brought out in detail in his work, The Indian Constitution: Cornerstone of a Nation on how the Indian constitution was framed and why the members of the Constituent Assembly wrote their constitution as they did.
For this work of his, the government of India honoured him with Padma Shri, in 2011.
Granville Austin
Dharmasastras
Dharmasastras are ancient law books of this land, which prescribe moral code of conduct for citizens and a set of guiding principles for jurisprudence.
India had many Dharma Sastras which have been its constitution in ancient times, and which have facilitated in a prosperous and just rule, making "Bharat that is India" one of the few continuous civilizations.  The Indian Constitution starts with the phrase, "India that is Bharat….". 'Bha' stands for knowledge and 'Ratha" means to relish. Bharatha is the land of people who relish knowledge. Bha also means, effulgence, light. Bharath is the land that shines with the effulgence of knowledge and wisdom.
The Irony
Ironically however, the Constitution of India draws its light, heavily from other countries, and is not drawn from Indian Dharma Sastras.
Influence of other constitutions on Indian Constitution, Source Wikipedia
The Indian sastras like Veda, Purana, the Dharmasastras and other Indian scriptures make for a great exposition of law, and were based on Dharma, the eternal law based on principles of Nature. It is time we draw in from these ancient Dharma Sastras, and adopt them in our constitution, wherever suitable to modern times, to facilitate further the prosperity of this great nation and civilization.
An image of Nataraja in our constitution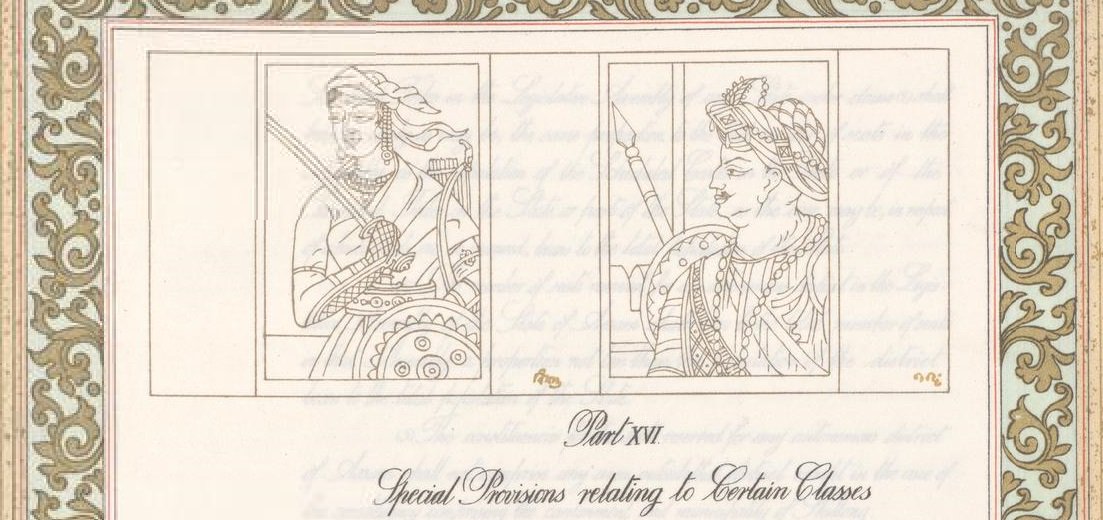 Portrait of Queen Lakshmi Bai and Tipu Sultan In Original Copy of Constitution of India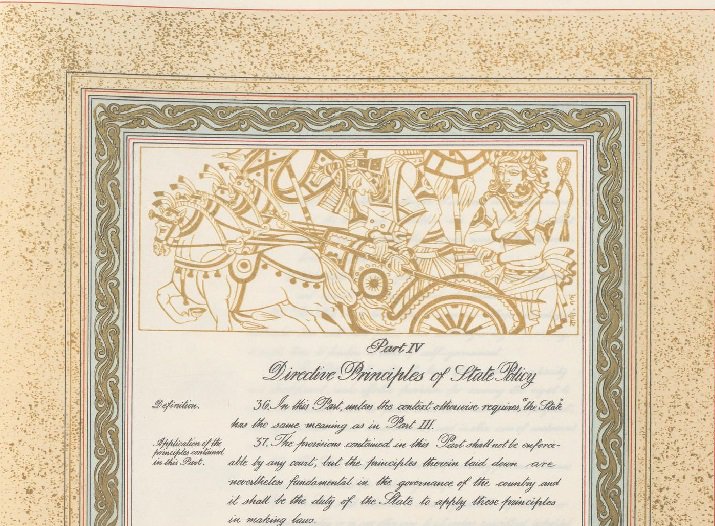 Image of Lord Krishna Having Conversation With Arjuna During Mahabharata War In Original Copy of Constitution of India
Uniform Civil Code
The Constitution of India speaks of Uniform Civil Code, in article 44 of the Directive Principle of the Constitution, which says, "The State shall endeavour to secure for citizens a uniform civil code throughout the territory of India." Uniform Civil Code is the proposal to replace the personal laws based on the scriptures and customs of each major religious community in India with a common set governing every citizen. These laws are distinguished from public law and cover marriage, divorce, inheritance, adoption and maintenance.
This is another aspect of equality that we need to adopt, if we are to truly follow the meaning of Samvidhan as being equal and same for everyone, in its true sense.