Tilak
Bal Gangadhar Tilak was an Indian Freedom fighter who played a pivotal role in the freedom struggle.
Bal Gangadhar Tilak
On this day, two other freedom fighters Chandra Shekhar Azad and Subramaniya Siva, also have their birthdays.
Chandra Shekhar Azad
Chandra Shekhar Azad, born on 23rd July, 1906 was an Indian freedom fighter, who reorganized the Hindustan Republican Association with the name Hindustan Socialist Republican Army.
Subramaniya Siva
Subramaniya Siva
Subramaniya Siva was a contemporary and co-fighter, with Subramaniya Bharati, the poet cum freedom fighter and V O Chidambaram Pillai who started Swadeshi Shipping Company. He was a writer cum activist.
Subramaniya Siva
More on these freedom fighters in our book, Brand Bharat.
"Lal Pal Bal"
The Trio of "Lal Pal Bal" were forerunners of the freedom struggle much before the times of Mahatma Gandhi. Lal was Lala Lajpat Rai from Punjab, Bal was Bala Gangadhar Tilak from Marartha, and Pal was Bipin Chandra Pal from Bengal. They came from different corners of India and asked for Swaraj in united voice.
Lal Bal Pal
Tilak's Birth and Education
Tilak was born on 23rd July 1856 at Ratnagiri village of Maharashtra. His father was a Samskrt teacher.
Birth Place of Tilak
A first cover of Tilak's Birth Centenary issued in 1956
Tilak was among the first generation of Indians who secured a graduation.
Marriage
In 1871, Tilak married Satyabhamabhai. He began teaching mathematics at a private school.
Selfless Service
According to Tilak, spirituality was not divorced from worldly life. He got his inspiration from the Bhagavad Gita, which he believed taught selfless service to humanity.
He said, "I regard India as my Motherland and my Goddess, the people in India my kith and kin, and loyal and steadfast work for their political and social emancipation my highest religion and duty."
Later he went on to write a commentary on the work called the Bhagavad Gita Rahasya.
Deccan Education Society
Making social service the goal of his life, Tilak founded the 'Deccan Education Society' along with his college friends in Pune, with the aim of improving the quality of education in India.
Deccan Education Society, Pune
Joing INC
Tilak joined the Indian National Congress in 1890 and became a part of the Freedom struggle. His main aim was to unite the people against British. He worked with Mohammed Ali Jinnah in the Home Rule Movement.
'Lokamanya'
He was soon conferred the title of 'Lokamanya', Loka meaning, 'world' and Manya, 'acceptance', as he was accepted by all sections of the society as their leader.
Father of the Indian unrest movement
He was called the 'Father of Indian unrest movement' by the British for his successful attempts in uprising the masses towards freedom.
'Bal Pal Lal'
Along with Bipin Chandra Pal and Lala Lajpat Rai, two other freedom fighters, Bal Gangadhar Tilak became a part of the trio who were collectively nicknamed, 'Bal Pal Lal.'
Celebrating Ganesha Utsav
In 1894, Tilak called for celebrating the domestic Ganesha festival as public event. His intention again was to unite people through the fervour of the festival.
Tilak started Ganesha Utsav
'Swaraj is my birth right'
In 1897, Tilak raised the clarion call,
"Swaraj is my birth right and I shall have it."
This slogan is ingrained in the Indian consciousness even to this day. A stamp has been released by the Government to this effect.
Swaraj Stamp
Tilak's call intensified the yearning for Swaraj from the British, in every common man's mind as well as collectively in the entire population of the land. It became a turning point of our Freedom movement.
In 1905, following the partition of Bengal, He encouraged the Swadeshi and Boycott movements.
As a journalist
At this moment, he also began his journalistic career by founding the Kesari newspaper. Tilak opposed many policies of British by publishing strong worded articles in his paper. Kesari became the voice of the freedom fighters.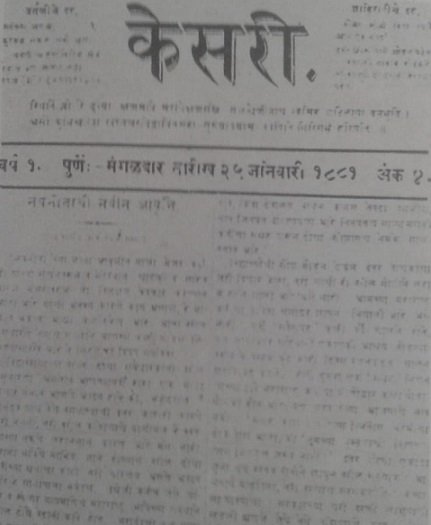 Kesari newspaper
Authoring Books
Tilak was sent to jail for carrying out anti-British activities. Here, he spent his time in writing the commentary on Bhagavad Gita. He also authored a book called "Orion, or the antiquity of the Vedas", which is a research on the antiquities of the Veda.
In this book, which he wrote in his prison cell, he writes about the knowledge in the Veda about the galaxy, the galactic arm, the position of our sun in the galactic arm, the constellation of Mrigashirsha in this arm. Through these he tries to fix probable dates when this knowledge could have been composed on earth in the form of Veda.
Gandhi's Guru
All in all, Tilak paved the way for Mahatma Gandhi, as the momentum of his activities helped Gandhi to start his non-cooperation movement. In this regard, Gandhi considered Tilak his Guru.
Tilak passed away on August 1st, 1920 in Mumbai. A true devotee of Bharath in true sense of the word.
Last words of Lokmanya Tilak on verdict of Jury in 1908, is on plaque outside Central court of Bombay High Court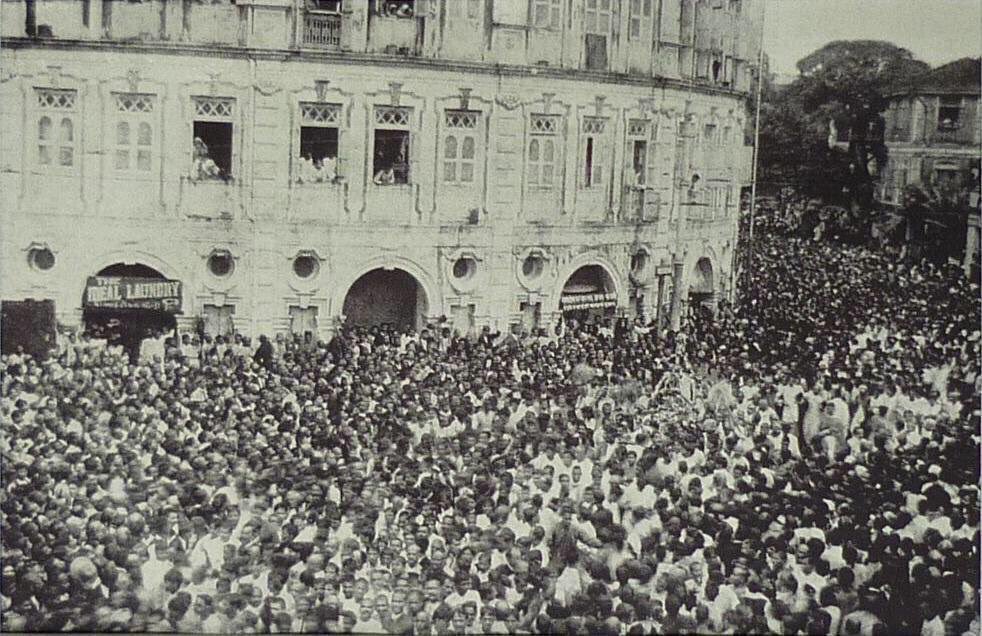 Funeral procession of Lokmanya Bal Gangadhar Tilak