Rani Lakshmibai was born on 19th November, 1828 at Varanasi. She is popularly known in this land as Jhansi Ki Rani, meaning "Queen of Jhansi" as she ruled over the Maratha state Jhansi. She fought against British with the slogan Meri Jhansi Nahin Doongi. She was the rallying spirit behind the 1857 war of Independence against the British.
Birth
Rani Lakshmibai was born into a Maratha family. Her parents Moropant Tambe and Bhagirathi Sapre named her Manikarnika, after the Manikarnika Shakti Peeth in Varanasi.
Chhabili
Her father worked for the Peshwa, chief minister of Bithoor district. The Peshwa was very fond of her and nicknamed her Chhabili, meaning 'playful'.
Education
She was educated in archery, horsemanship and self-defence at a very young age.
Marriage
In the year 1842, she was married to Raja Gangadhar Rao, the Maharaja of Jhansi. From then on she was called Lakshmibai and also Jhansi Ki Rani.
Son and Adopted Son
In 1851, Rani Lakshmibai gave birth to a son named Damodar Rao. The child was not to live long as he passed away within 4 months. Gangadhar Rao then adopted a child born to his cousin. This child was also named Damodar Rao.
Gangadhar Rao soon passed away in the year 1853, leaving alone his wife and adopted son. Rani Lakshmibai started ruling the kingdom.
British wanting to Annex Jhansi
British had by then annexed many of the Indian states and now wanted to seize Jhansi. Lord Dalhousie was the governor General of British India then. He sent notices to Rani Lakshmibai, rejecting her son Damodar Rao's right to throne. They said that as Damodar Rao was not the biological son of Gangadhar Rao, he cannot lay claim to throne and that the state of Jhansi now belonged to the British. In this backdrop, Rani Lakshmibai was paid Rs 60,000 as pension and was ordered to vacate the palace at Jhansi fort.
Meri Jhansi Nahi Dungi
Rani Lakshmibai was however not going to give up easily. She strengthened her defences and enlarged her Army recruiting many warriors of those times like Khuda Baksh, Gaulam Gaus Khan and Dost Khan among others into the army. Her famous slogan was "Meri Jhansi Nahi Dungi", meaning, "I won't give my Jhansi".
First War of Independence
Three years later, in the year 1857, the first War of Independence broke out and there was unrest throughout the country. The attention of British was turned away from Jhansi to other parts of the country. Rani Lakshmibai seized this moment to further mobilize her forces.
The Battle
In the year 1858, after the First War of Independence, the British forces under Hugh Rose decided to lay siege on Jhansi. Rani Lakshmibai and her forces were by then fully prepared to take on the British.
A fierce battle began between the Jhansi forces and British troops on 23rd May, 1858. Rani Lakshmibai led from the front and gave a tough time to the British, in a battle that lasted for two weeks. Her forces were also joined by the army of Tantya Tope.
Her army was however not able to hold on against the British Troops who were more experienced in warfare and the British captured Jhansi fort.
Escape and Recoup
Rani Lakshmibai managed to escape from the city along with her few guards, by making a brave jump from the fort, on her horse.
Rani Lakshmibai and her son Damodar Rao recouped their forces and joined with the other rebel group of Tantiya Tope.
Defeating Gwalior Maharaja
The combined forces of Rani Lakshmbai and Tantiya Tope now moved to Gwalior, where they defeated the Maharaja of Gwalior, who had joined hands with the enemy forces and captured the Gwalior fort.
Death
The British attacked Gwalior in a few days. Rani Lakshmibai passed away on 18th June, 1858, while saving the Gwalior fort.
Praise from the Enemy Camp
The remarkable bravery and courage she had shown all through, made even General Hugh Rose of the enemy camp remark, "Remarkable for her beauty, perseverance and intelligence, she was the most dangerous of all the rebel rulers".
Legacy
After her death, she became a symbol of bravery and courage and was considered an icon by many freedom fighters who came after her, in the struggle for Independence. Many women were influenced by her life.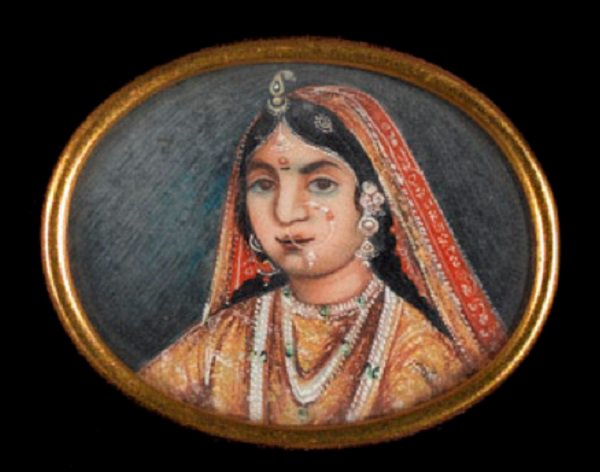 Portrait of Queen Laxmi Bai Made During Her Lifetime, Found In 1857 During Capture of Farrukhabad's Palace Army
Army Female Unit named after her
The first female unit of the Indian Army was named after her.
Statues
Statues of Jhansi were erected in Jhansi and Gwalior, the two places of her glory.
Post Independence, her statues were built in every nook and corner of the land as people still saw her as an epitome of bravery.
Stamps
Stamps have been issued in her name by the Government of India.
Films
Many films and serials have also been made on the life of Rani Lakshmibai.
Part of school books
Today, every child knows her name as 'Jhansi Ki Rani', as her inspiring life has become part of textbooks in schools.
Rani Lakshmibai will remain an inspiration for the women and youth of this country for many more generations to come.
– Dr. D.K. Hari & Dr. D.K. Hema Hari