A Shaheed
Bhagat Singh was one of the most influential freedom fighters of the Indian freedom struggle. The title Shaheed, meaning 'martyr' most often precedes his name. Shaheed Bhagat Singh was a martyr who inspired the youth of the country to take part in the Indian independence movement.
Shaheed Bhagat Singh
Into a family of revolutionaries
Bhagat Singh was born into a Sikh family on 28th September, 1907 at Jaranwala Tehsil in Punjab. He was born into a family of revolutionaries. His birth coincided with the release of his father and uncles from jail. They had been imprisoned for carrying out anti British activities.

Education
Bhagat Singh's grandfather was a follower of Arya Samaj, the religious reform movement founded by Swami Dayanand Sarasvati. The young Bhagat Singh joined the Dayanand Anglo Vedic High School, for his education.
Becoming a revolutionary
At the age of 12, Bhagat Singh was greatly moved by the Jallianwala Bagh massacre in 1919, when thousands of people who had gathered at a peaceful public meeting were shot dead by the British. This tragic event sowed revolutionary sentiments in the mind of Bhagat Singh.
At the age of 14, Bhagat Singh was witness to another gruesome incident when a large number of unarmed people were killed by the the colonial dictators at Nankana Sahib Gurudwara.
Thus apart from being born into a family of revolutionaries, these violent incidents perpetuated by the British ensured that Bhagat Singh would also become a revolutionary at a young age.
Joining Young Revolutionary Movement
Bhagat Singh soon became a part of the Young Revolutionary Movement to defeat the colonial rulers.
Finding Naujawan Bharat Sabha
In March 1926, Bhagat Singh founded the Naujawan Bharat Sabha, which translates to Youth Society of India. The Youth Society of India sought to bring together youth peasants and labourers, against the British.
A Life dedicated to Freedom
When his family wanted to get him married, Bhagat Singh ran away from home, leaving behind a letter which read,
"My life is dedicated to noblest of causes, that of freedom of the country. So there is no worldly desire that can lure me now."
Death of Lala Lajpat Rai
In 1928, Lal Lajpat Rai, another revolutionary, was killed by the British, for leading a non-violent struggle demonstration against the Simon Commission. This infuriated Bhagat Singh who sought to take revenge.
Lala Lajpat Rai
Killing British police officer
Bhagat Singh was then involved in the killing of British police officer John Saunders. Bhagat Singh was an accomplice along with Sukhdev Thapar and Shivaram Rajguru in this assassination that was carried out to avenge the death of Lala Lajpat Rai.
Throwing bombs into Central Legislative Assembly
Immediately after this, he along with Batukeshwar Dutt, another revolutionary, threw bombs into the Central Legislative Assembly.
Arrest and Execution of Bhagat Singh
Bhagat Singh was soon imprisoned by the British. Even in jail, he continued his struggle, by undergoing a 4 month fast, seeking equal rights for Indian prisoners on the lines of British prisoners.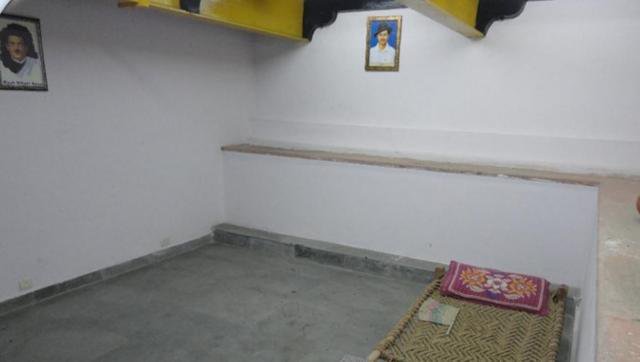 Room In Delhi University In Vice Regal Lodge where Bhagat Singh was imprisoned during Trial
Bhagat Singh was convicted by the British for carrying out the murder of John Saunders and was hanged on 23rd March, 1931, along with Sukdev Thapar and Shivaram Rajguru.
   Bhagat Singh, Sukdev Thapar and Shivaram Rajguru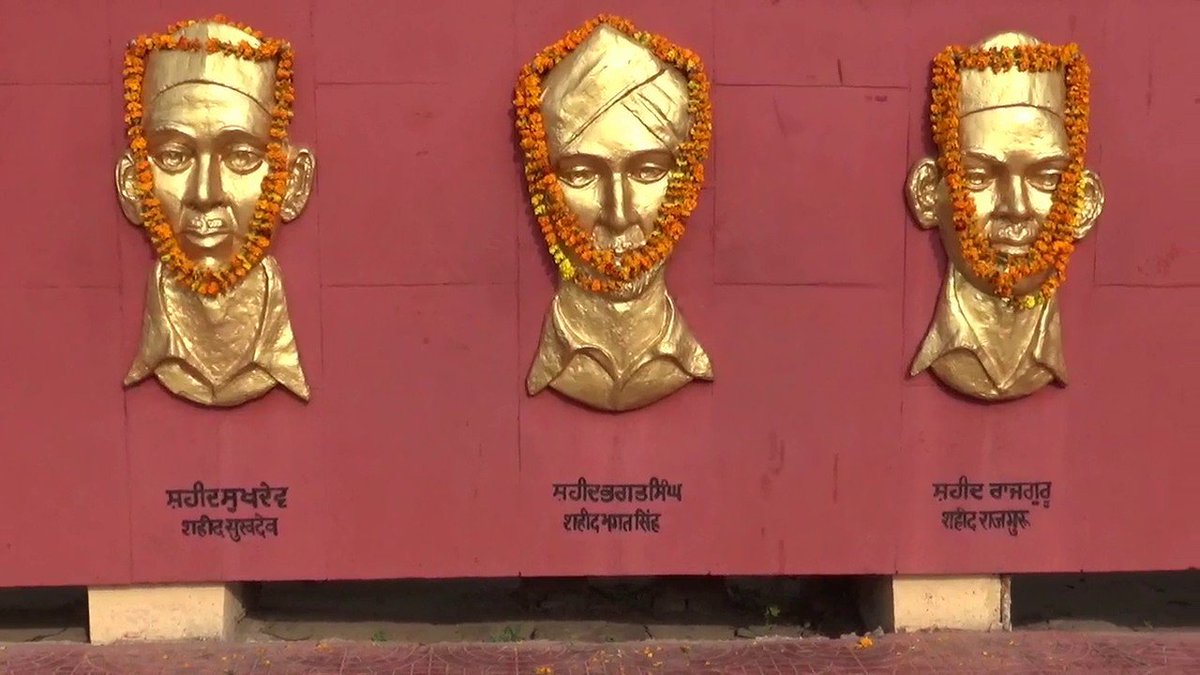 National Martyrs Memorial at Hussainiwala, Punjab Where Bhagat Singh, Sukhdev and Rajguru Were Cremated In 1931
Death warrant of Bhagat Singh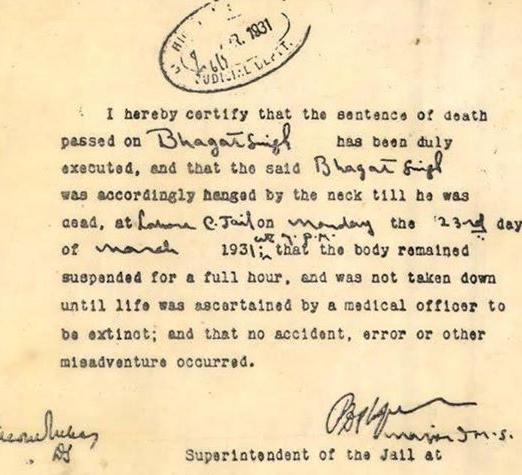 Death Certificate of Bhagat Singh
Their death anniversary is today popularly observed as Martyr's Day.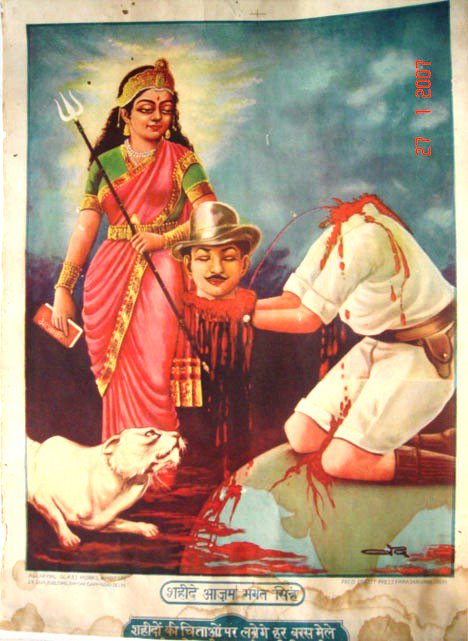 "Shaheed-e-Azam" Bhagat Singh offering his head to Bharat Mata, Bazaar Art
The martydom of Bhagat Singh reported in a newspaper
His legacy – A Source of Inspiration
Bhagat Singh today finds a place in Indian Parliament in the form of a large bronze statue. There are innumerable memorials of Bhagat Singh at different parts of the country. There are many films on his life and stamps released in his name. He continues to be a source of inspiration for the youth of this country.
Statue of Bhagat Singh at Indian Parliament
Stamp on Bhagat Singh
Legend of Bhagat Singh, A Hindi Film