Afghan Anglo Treaty
Afghanistan Independence Day is the day the Anglo – Afghan treaty was signed giving complete independence to Afghanistan from British control. This settlement came forth after the third war between Britain and Afghanistan.
Three Wars
Britain and Afghanistan fought three wars.
First War
In the first war, between 1839 and 1842, the British forces were completely routed by Afghan forces. In this crushing defeat for the British, off the 16000 British soldiers who fought the battle, only one survived.
 The Lone British survivor
Second War
In the second war, initially the British were on back foot, but came back strongly at the battle of Kandahar. After this there was amity between both for the next 40 years.
Third War
In the third war, of 1919, the British sensing a defeat under the hands of Afghan forces decided to patch up with the Afghans, and ceasefire was agreed upon by both sides. Further negotiations led to the complete independence of Afghanistan on August 19, 1919.
Indo Afghan Connect
The India Afghanistan connect is ancient.
Afghan, Ashva, Ashvaka
The word Afghan comes from the word Ashvaka. In Samskrt, the word Ashva refers to a horse. Ashvaka means 'A land of horses'. In ancient times, the people of this region were known for raising fine breed of horses. Hence the Afghan region was called Ashvaka in those days.
Afghanistan, land of horse                                                            Afghan Horses
Gandhara Desha, Gandhari
The Gandhara Desha from Mahabharata times is the present day Khandahar. The mother of the Kauravas got the name Gandhari for she hailed from Gandhara Desha, kingdom of Gandhara.
Gandhari
Tarim Basin
Until about a thousand years ago, the Tarim Basin in Tibet was Indic in culture & ethnicity and its people spoke the Gandhari language and Khotanese Saka, which are both closely related to Samskrt.
Rivers
The Rig Veda-10.75.6 speaks of the northwestern rivers, tributaries of Indus flowing through Afghanistan and north western Pakistan. The rivers are Trstama, Susartu, Rasa, Shvetya, Sindhu, Kubha, Gomati, Kruma and Mehatnu.
'Hara quaiti' – 'Saras Vati'
The River Haraquaiti, a tributary of Helmund River in Afghanistan derives it name etymologically from the River Sarasvati.
River Haraquaiti
Hindu Kingdom
It is a fact that Afghanistan was an Hindu Kingdom till, 871 CE. This kingdom was last ruled by King Lagatorman. His dynasty was also called by the name, Kabul Shahi, Brahman Shahi, Hindu Shahi and Raya of Kabul.
King Lagatorman
Coins of Kabul  Shahi Kings
Naga King
A statue of a Naga king holding a lotus can be found at the Afghanistan, Kabul Museum.
Statue of a Naga King
'Head of Brahma'
Similarly, a statue called 'the head of Brahma' dating to 200 CE is also found in the museum.
'Head of Brahma'
Panini
Panini, one of the early grammarians of Samskrt language was a Patan from Afghanistan. His authoritative work on Samskrt grammar is called Ashtadhyayi, Ashta meaning eight and Adhyayi, chapters. This work consists of 8 chapters on the Science of Grammar.
                                    
                                   Panini                                          Panini writing Ashtadhyayi brought out in Indian stamp
Buddhism
Buddhism also had a major presence in Afghanistan as can be seen from the many statues of Buddha at Bamiyan.
Bamiyan, Afghanistan
Statues of Buddha in Bamiyan
A 160 metre statue of Buddha equal to a six storey building in Bamiyan
Hieun Tsang, Chinese traveller describes the statue of a 3rd Buddha, when he visited Bamiyan on his way to India in 630 CE. This is a reclining figure of Buddha about to enter Nirvana.
Hieun Tsang
             Buddha in relining position, a sculpture in Bamiyan    
Ancient Buddhist city unearthed in Afghanistan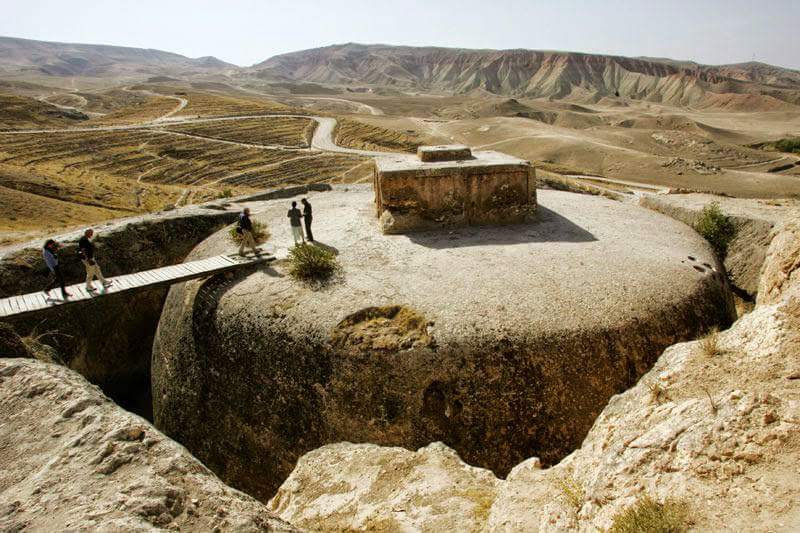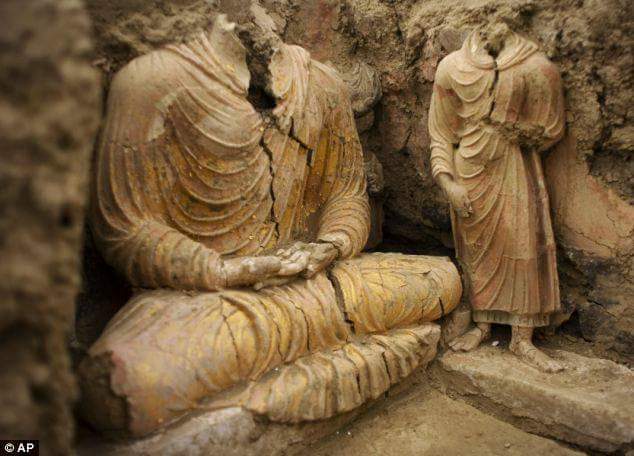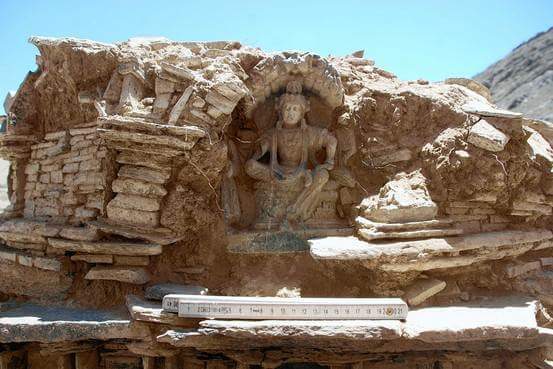 Lady in Namaskara position
A Reliquary Gold set with rubies dating to 200 CE, found in Afghanistan, depicts a lady in the namaskara position and also wearing a bindi. This gold set is presently at the British Museum in London.
Reliquary Gold Set, British Museum
Tillyya Tepe
Similarly, a pendant, called the Tillyya Tepe found in 100 BCE in Afghanistan has the mark of a bindi.
Tillyya Tepe Pendant
Connect in recent times
Coming to the present days, the connection continues.
Kabuliwala
Raindranath Tagore wrote a story called Kabuliwala, which was later made into a film.    
          Raindranath Tagore  
Kabuliwala story
Film Kabuliwala
Hamid Karzai studied in India
The Afghan President Hamid Karzai studied in India. He came to India as an exchange student and studied at the Himachal Pradesh University.
    Hamid Karzai    
Himachal Pradesh University
Afghan Snow Cream
Afghan snow cream was one of the popular cream that was used in India, in the days gone by.
Afghan Snow Popularity through the decades
Close ties through millennia
India and Afghanistan have been geographically and culturally close for many millennia. These are but some of the facets of of these close ties.