Handloom is a traditional machine that facilitates weaving. The Handloom industry goes back to the antiquities of our civilization, and is as old as the Indian civilization itself, dating back to atleast 8000 years.
Today, 95% of the world's hand woven fabric come from India, and 15% of the cloth production from India is handloom.
National Handloom Day
The government of India found it apt to celebrate a day on handloom.
National Handloom Day was launched by Prime Minister Narendra Modi on August 7th 2015, at a national level function in Chennai. This day has its special significance, as it was on this day that the Swadeshi Movement was launched in 1905, against the British Rule.
Handloom products is among the products that have been Made in India from time immemorial and exported to all parts of the world.
More on this our book, Brand Bharat – Made In India.
Handloom – A Heirloom
A handloom has been regarded as a precious object worldover, in as much that the word heirloom is used to denote an object that is passed on from generation to generation.
In Different languages
A handloom is known by different words in India, and every language has its special for it. Some of them being,
| | |
| --- | --- |
| Language | Word |
| Hindi | Karaghi |
| Tamil | Kaithari |
| Malayalam | Mannunnu |
| Telugu | Maggalu |
| Kannada | Magga |
| Punjabi | Karkata |
| Bengali | Tamta |
Occupation from ancient times
India has been a land that has been famous for weaving cotton for well over 8000 years and more. In fact, fine quality yarn and textiles were one of the main exports of India through the last few millennia.
A vital aspect of Indian heritage
In other words, weaving has been a part of India's heritage from ancient times, one of the noble old professions.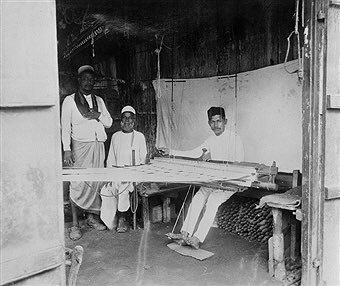 A 1922 image of  a Handloom showing the weaving of cloth by hand, , in Bombay
An important part of Economy
In this regard, handloom were an important aspect of India's economy from ancient times. It is the largest economic activity after agriculture.
Among 64 Kala
Weaving is so important that it finds mention among 64 Kala.
There are 64 Kala, arts and crafts. This has been mentioned in Indian literature at various times. One of the early mentions is in the dialogue between Krishna and Arjuna, in the Bhagavad Gita, that took place 5100 years ago, prior to the Kurukshetra Battle on 22nd November, 3067 BCE.
Bhagavad Gita
The relevant sloka being,
We again find mention of 64 Kala, around 200 years back, in the works of Raja Vikramaditya.
Raja Vikramaditya
Among these 64 Kala, Suci-Vaya-Karma, involves the use of handlooms. Suci-Vaya-Karma is a craft of needle works & weaving.
Patangi
Patangi are the class of people who specialize in weaving and handlooms.
The word Patang comes from the root pata, meaning a flat cloth. Patangi are those who create flat cloth, by weaving through handlooms.
Kabir and Thiruvalluvar
Two prominent personalities, one hailing from the North and other from the South belonged to the weaving community.
They are Kabir and Thiruvalluvar.
Kabir, born in 1440 CE is one of the most popular saints that India has seen. His main occupation was weaving. He was a philosopher, who enlightened people on how to weave through the challenges of life.
Kabir the weaver
Saint Thiruvalluvar, who was born in 4th century CE, in Tamil Nadu, belonged to the weaving community. The very word "Valluvan" refers to a Weaver, and the word "Thiru" is honorific in Tamil, similar to Sri in Hindi.
Thiruvalluvar, the weaver
Awards Given This Day
Since weaving has been such an important occupation, the handloom also has an important place in Indian psyche.
On National Handlooms Day, Kabir awards are given away by the Prime Minister to distinguished handloom personalities.